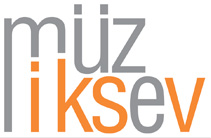 Izmir Foundation of Culture, Arts and Education (İKSEV) has actualized MÜZİKSEV with the objective of sharing its accumulation of 32 years with the city people and to present a permanent gift to İzmirians who have called itself into being.

The mission of MÜZİKSEV will be;
• To preserve all the assets found in its collection, do their maintenance, to present them to public as a means of teaching-education, entertainment and pleasure culture;
• To be an important center for the scientific research made within its own area;
• By virtue of the technology it possesses, to become a focus of interest also for the young generations and to be a bridge between the history and the future;
• To be one of the important cultural institutions of the city and to develop relationships with other cultural institutions to that end,
• To undertake the function of a center that provides significant contributions to cultural tourism for İzmir to be mentioned as a culture, art and tourism city again.

Within this context;
The purpose of establishment of MÜZİKSEV is the ideal of İKSEV which has provided uninterrupted contribution to the cultural and artistic life of the city since it has been founded to create a center that will allow comprehensive research in the area of music where studies especially oriented at the education of the youth can be made.

The priority goal of MÜZİKSEV is to reflect the rich musical past of our country and city. In MÜZİKSEV, where the authentic Turkish musical instruments will be exhibited, the visitors will be able to listen to the sounds of these instruments with the state-of-the-art apparatus from the performances of their best interpreters.

MÜZİKSEV, besides its permanent collection of the traditional Turkish musical instruments will also embody a library where valuable notes belonging to contemporary Turkish composers, mainly being the works that have participated in Dr.Nejat Eczacıbaşı National Composition Contest and music books will be possible to be preserved, will serve as a center that the youth receiving music education, researchers, musicologists and city people who are interested in music can benefit from. Thus, the visitors will be able to benefit from every kind of recordings that will be available in the sound archives, from the gramophone records to festival concerts, from the performances of famous artists to the recordings of the important congresses and seminars mainly being Culture Congresses. MÜZİKSEV, while walking towards its mentioned targets, has included preserving the historical texture of the city in its mission, an ''Alsancak House'' which is one of the symbols of the magnificent city culture past of İzmir has been resurrected in 2011 as an important cultural institution.